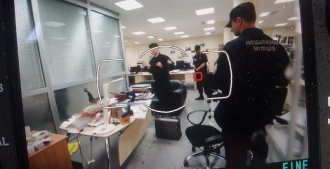 In our country everything changes very quickly, and when security forces will come to them because they will be undesirable, there will be no one to protect them.
15.09.2014
The newspaper «Vesti» doesn't give a rest to government once again. After the redaction capture by tax police in May, the «masks-show» was initiated by SBU officers (Security Service of Ukraine). I got a phone call at 11 a.m. and I was told by colleagues: no work today, we are captured by SBU. As far as I understood through the colleagues words, it all happened as usual – people in full face masks came, stopped our guys and began searching. At the moment of the capture there were employees of the business department and the online newspaper «Vesti», which means more than fifty persons. Besides, it was not allowed to enter or leave the building, so we carried out the planning meeting on the street. Yes, all the employees were gathered in order to distribute the topics and then started working outdoors.
After a few hours, to the employees who were left in the office were allowed to order pizza, just because the security forces got hungry themselves and mercifully allowed journalists to eat. They closed them all in a hot lobby, and went outside of course. Deputies arrived to find out what was happening, and it was said they would not be allowed to enter (they entered only few hours later). «Vesti has already passed through it all». And I personally protested against it all at Maidan.
Later under attack was typography, in which is printed not only our newspaper, but many others ukrainian publications (14 newspapers, including the state media, as for example the «Governmental Currier» ). In addition, the scheme was the same (no need to invent something new), they arrived, blocked the work and explained: any complaints only in 1 hour and a half.
The research in our office was finished in the evening. Security officers confiscated all the equipment and documents, even the employment record books. They loaded all the confiscated things in a van and drove away. They took all the technical equipment, including recorders, personal belongings, even personal pictures that some employees had in their office. All the things were thrown out of the desk drawers. On the floor were laying disassembled computer blocks without hard drives. The photography service cabinet, with very expensive equipment inside, was burgled. By the way, from me was taken a notebook, with thumbnails for KVN («Club of the Funny and Inventive») of my student days. I hope security forces will appreciate them.
Our colleagues were not released before 7 in the evening.
In general, all was as usual, any comments (as editor-in-chief of «Vesti» Igor Guzhva wrote on his blog, two days before the search in the newspaper was a publication about the SBU leader's Nalivaychinko daughter, who lives in USA and rents a department in the most prestigious New York region). Accusations were presented to us only after the capture. The newspaper «Vesti» is suspected in separatism, because of some stories, publicized in the magazine «Reporter» , that were recorded, as it is used to say, on the other side of the barricades. The fact that it is journalist's duty to find and present information from all sides , was successfully forgotten. As it was also forgotten that such accusations could be presented to many other Ukrainian mass media.
Nothing new in social networks – some «colleagues» immediately started giving out joyful posts that we will be finally stopped. I can't remember such posts related to the channel TVI, when «masks -how» came to them. The journalistic community in Ukraine has long been differentiated. Some don't like us because of jealousy, some other put their «civil position» above the professional. Our colleagues tend to forget that journalist, in a first place, is an unbiased transporter of events, and only after an activist , a social person and so on. They also forget that in our country everything changes very quickly, and when security forces will come to them because they will be undesirable, there will be no one to protect them.
Special thanks to all who wrote , called and were worried about us. To all who understands that what happened to us is a mess. I want to tell you guys, that we are not giving up. We will continue working. And we will even louder carry the truth, because the difficulties make us tougher. Our team is not discouraged, and will not be in any case.
Finally, if there are any justified complaints, let us solve them in a civilized manner, and not with the «masks-show». I still truly believe, that Europe starts from ourselves.
Yuliana Skibitska
Translated by Tetiana Prydiy